November 2014
Reverend Mark Anthony Lord and the Bodhi Spiritual Center
invite you to join us in November 2014
An Inward Journey ~ Pilgrimage of the Heart ~
Sacred Photography, Spiritual Practice
and Cultural Immersion in Peru !
With Cynthia James, Carl Studna and Jorge Luis Delgado
Lake Titicaca November 25th -28th 2014
Spend Thanksgiving day in the divine energy
of Aramu Muru the Sacred Doorway between the worlds!
General weather, altitude and clothing information in a nutshell !
Altitude? Cusco: 10,900 Ft Sacred Valley: 7,600 Ft. Puno: 12,500 Ft.
Weather? Whether you like it or not: It is always a blessing. It is winter, but weather is changeable.
Lima Min 56 - 58ºF. Max: 69 – 71ºF
Cusco: Min 36- 40ºF. Max: 66 – 69ºF
Machu Picchu: Min 47 - 51ºF. Max: 67 – 70ºF
Puno: Min 10 - 14ºF. Max: 68 – 70ºF
What to bring: your 7 senses , Sense of Humour. Sense of Adventure. Sense of Humility Sense of Solidarity, Sense of Compassion, Sense of Awe, AND Sense of Peace (Patience)
Bring comfortable clothing for some sunny days & warm clothing for cool ones. Of course in Peru they offer a magnificent selection of all of these items as well as very inexpensive, exquisite local creations of Alpaca sweaters/ ponchos/ hats/ scarves/ gloves/ socks/ purses/ backpacks/ travelling bags, etc.
Comfortable walking shoes, hat, sun glasses, sun screen, Ponchos for rain . Many people bring snacks dehydrated food and nuts and it is OK to bring enough for personal consumption during the journey.
November 2014
Travel day: Saturday Novemer 15th
Lima
Late night arrival into Lima Airport. Option to overnight in an airport hotel .
Entering Peru is a straightforward process. It is a simple matter of filling out a Tarjeta Andina tourist card and presenting your passport to the immigration officials. Typically called a "tourist card " and given to you during your flight to fill out . You will hand the form to customs with your passport and keep a copy to present as your exit visa .
(Your passport numbers are given to the train stations and the hotels in advance. )
From there you go to baggage claim and clear customs.
Day 1: Sunday November 16th
Cusco
CUSCO: You will love this warm, welcoming colonial city in the Andes with its friendly people and interesting shops, cafes, restaurants and sites.
Climate. Cusco has a subtropical highland climate , Its climate is generally dry and temperate, with two defined seasons. The dry season lasts from April to October, with abundant sunshine, and occasional nighttime freezes: July is the coolest month with an average of 9.6 °C (49.3 °F). The wet season lasts from November to March, with night frost less common: November averages 13.4 °C (56.1 °F). Although frost and hail are common, snow is virtually unheard of. The only snowfall ever recorded was in June 1911. We are currently asking for updated weather information , as the weather worldwide is not unusual this year .
Altitude 11, 152 feet above sea level.
The Incas cultivated an advanced awareness of energy and the knowledge of how to utilize each vibration for growth and transformation. Each of over 300 temples were built at a specific point of power within the city. There are said to be 1,500 temples and altars in the mountains surrounding Cusco.
The city of Cusco was laid out in the form of a Puma with Saqsaywaman as the head. We embark on a walking tour of Cusco later today. We visit a few very special places in Cusco–learn to navigate from our hotel to the square, shops, restaurants and other points of interest.
Day 2: Monday November 17th
Tipon and the Sacred Cusco Alters
AM: Tipon tour
PM: Sacred Cusco Altars: Kusilluchayoc , Temple of the Moon, Sacsayhuaman, Qenko, Puka Pucara
Breakfast and lunch included. Dinner on your own.
Overnight at Cusco, Taypikala Cusco hotel.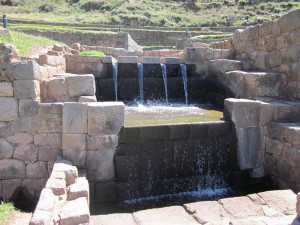 Tipon : Outside Cusco a winding dirt road takes us to the top of a mountain,where we find the lush magical site of Tipon . The water flowingform the top and left of the site is a merging of the male and femal energies . It is a represnatioano of the orginal Incan Empire and brings forth a feeling a deep peace and serenity . The water is purifying and uplifiting and bring a sense of inner balance. Jore will lead us in a speckal purification ceremony to begin the joureny .
To begin our afternoon journey we travel through the countryside to mystical Kusilluchayoc, Temple of the Universal Heart where we will have the opportunity to surrender to Love and embrace the authentic nature of this heart wisdom. Onward to Amaru Machay (Cave of the Serpents/Temple of the Moon) .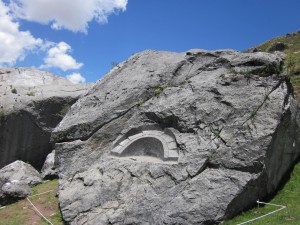 In Amaru Machay, we connect with the womb of the Mother and the Serpent giving us the opportunity of rebirth.
Later, we will continue visiting Sacsayhuaman,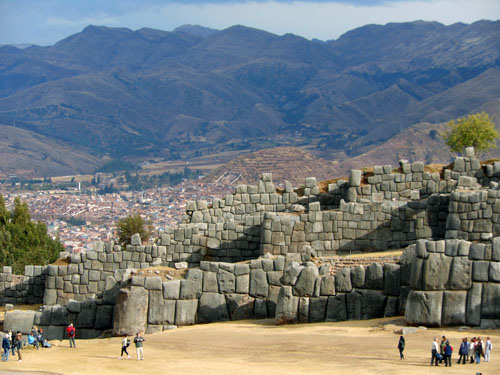 Qenko, Puka Pucara. We can admire the magnificence of our ancestors; connect with the living essence of remembering who we are and why we are here.
Overnight in Aguas Calientes
Hotel: Taypikala Boutique Machu Picchu
DAY 03: Tuesday November 18th
EARLY TRAIN TO MACHU PICCHU.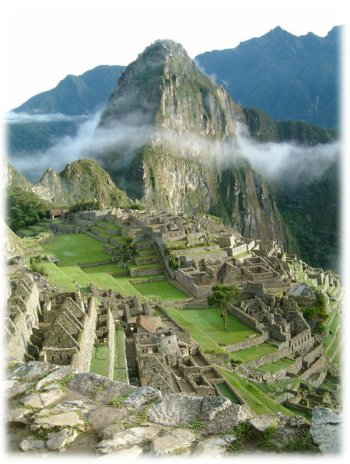 MACHU PICCHU: In the early morning we board our train to Machu Picchu and enjoy the breathtaking views of the lush Urubamba Valley. Machu Picchu, known as the Eighth Wonder of the World and the Sacred Crystal City waits. The total meaning and the varied uses of Machu Picchu are still unknown; why it was built and what purpose it served, who lived there and when they departed and why.
It is widely agreed that the main intent of this stunning city, sometimes steeped in rain forest clouds, was a spiritual and ceremonial center. Clearly, its creators intended the journey to the sacred city to be a powerful experience for anyone who makes the pilgrimage.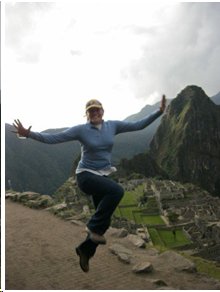 Jorge has some special things planned for us today.
The ruins and ceremonial sites are breathtakingly beautiful and rich with the heartbeat of Pachamama. (Mother Earth). We will discover the places on the grounds that call us and locate our personal power spots.
DAY 04: November 19th
Retrun to Machu Picchu for a sunrise cermeony and hike to the Sun's gate !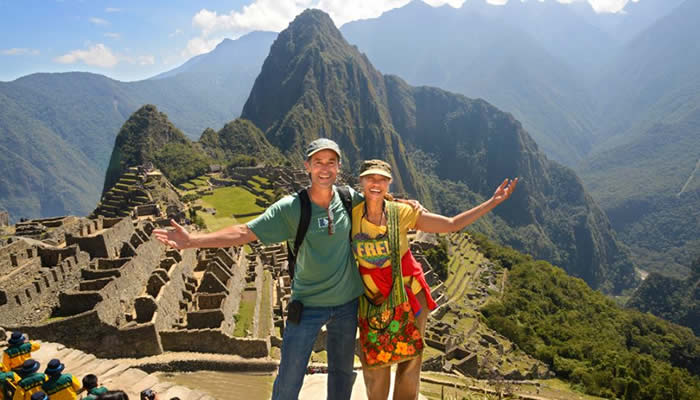 DAY 05: November 20th
Mandor Falls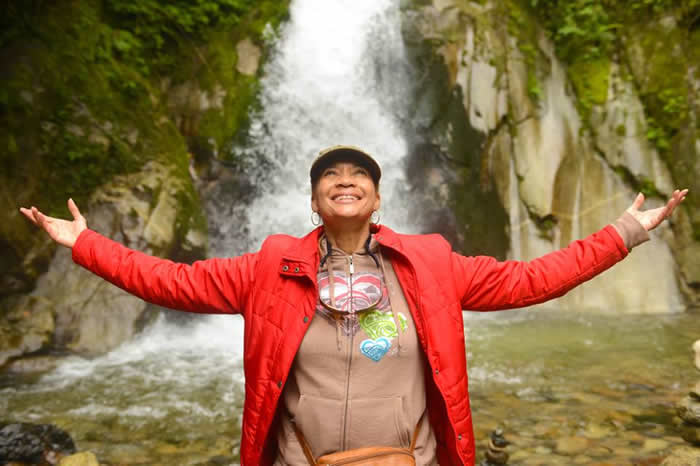 Hiking in the Machu Picchu sanctuary !
Mandor Waterfalls in the astounding scenery from ground level. From town we'll walk out of town along the road, and then pick up the railroad tracks which follow the river when the road ends. From here we view the steep mountain cliffs all around, jutting straight into the sky far above.
After about an hour along the river we'll turn away from the river and head up a side stream toward the Mandor Waterfall. Although we are hiking in the Machu Picchu sanctuary, there are some homesteads scattered throughout, and as we get away from the river we pass through an orchard with fruit trees before transitioning into cloud forest. About 20 minutes later we reach the waterfall, with a small pool nearby that allows a quick swim before or after our picnic lunch. We'll then retrace our steps back to town, with a total hiking time of about five hours.
TRANSFER TO WILLKA T'IKA your luxury home in the Sacred Valley for the next 4 days and 3 nights! The well-being of Wilka Tika guests is enhanced by delicious, organic vegetarian meals. Food is grown at Willka T'ika and vegan and gluten-free options are available. Breakfast and dinner daily , included . Lunch will depend on your daily journey through the temples of the sacred valley .
OVERNIGHT IN THE VALLEY AT WILLKA T'IKA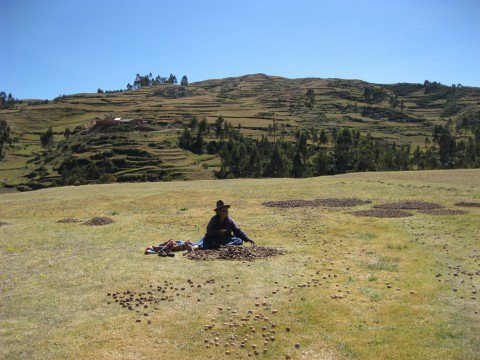 CHINCERO: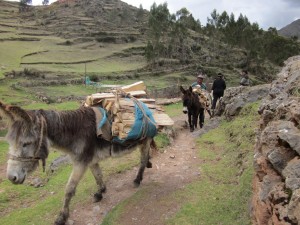 Potato dehydration in the sun .
A gentle site offering sacred caves, waterfalls, giant rocks, and much to explore and relax into. Here we connect with Pachamama (mother earth) and explore the many features of the site. We find our own places of alignment. Here we discover caves, waterfalls, rolling hills and temples of the past.
Many of these earth temples remain active and are visited by locals and shamans. Like Moray, Chincero offers a deep connection with the energies of the earth.
After spending as much time as we want at the site, we visit the native market at Chincero, colorful and fun. Here you will see many displays of fruits and vegetables, along with handicrafts.
MORAY: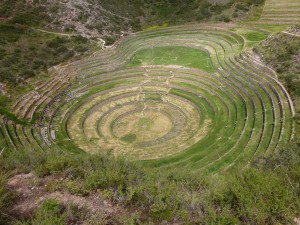 Step into the ancient/future. Today we will visit Moray, a site that resembles a sunken amphitheater with circular terraces carved deep into the earth. This ancient earth sculpture offers a unique and powerful earth connection.
PM: TIME FOR MEDITATION
OVERNIGHT IN WILLKA T'IKA
DAY 06: November 21st
VISIT AN ANDEAN SCHOOL
The children attending these high mountain schools love to come to school and are eager to make something of their lives. School attendance approaches 100 percent, diminished only when snow blocks the long walk over mountains from home or parents are sick or need help with animals or crops.

In addition to the regular education curriculum, donation funds foster self-sufficiency training through its School for Life programs, which teach life skills—such as business skills, greenhouse projects, carpentry, ceramic production, and raising guinea pigs for protein—and also encourages the continuation of ancient Andean traditions.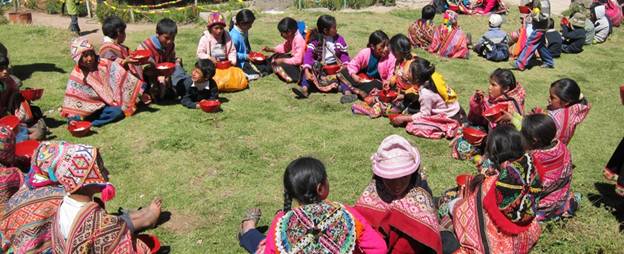 DAY 07: November 22
OLLANTAYTAMBO and PISAC MARKET AND TEMPLE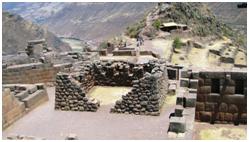 We travel to Pisac this morning, a charming Andean Village. The Pisac ruins are located high above the village and are a fine example of ancient stonework. The name derives from "pisaca", meaning partridge, and this ancient city appears to have been laid out to resemble a bird with the terraced fields forming the wings.
There appears to be both a practical and spiritual intention to the layout of the city. The temples are built both into and around natural rock formations that may have been of special spiritual significance to the Inca. The Sun Temple can be easily recognized by its curved outer wall. As at Machu Picchu, there exists here a Hitching Post of the Sun (a large carved stone). This stone was used on a midwinter's time (Winter Solstice) to bind the sun and prevent it from sinking any lower in the sky. After our time at the ruins we will visit the Pisac Market- the largest in this area of Peru.
PM: TIME FOR MEDITATION
OVERNIGHT IN WILLKA T'IKA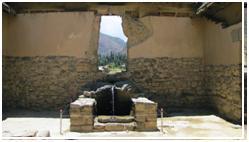 OLLANTAYTAMBO: The Inca Temple of the Sun is known as The Pyramid of Pakaritambo, or The Dawning Place of Tomorrow. It is also known as the Lemurian (read Edgar Cayce, Churchward on Lemuria or books and articles on the Lost Continent of Mu) Temple of Love – and that vibration can be felt in this place. There are many springs with flowing waters and the site has a very calming effect.
PM: TIME FOR MEDITATION
OVERNIGHT IN WILLKA T'IKA
DAY 08: November 23d
Chinchero and the Moray Circles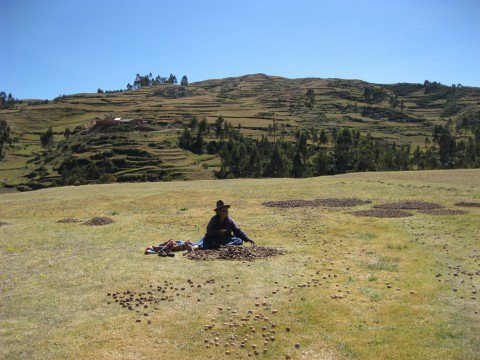 CHINCERO: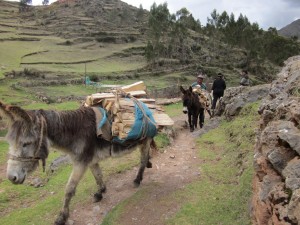 Potato dehydration in the sun .
A gentle site offering sacred caves, waterfalls, giant rocks, and much to explore and relax into. Here we connect with Pachamama (mother earth) and explore the many features of the site. We find our own places of alignment. Here we discover caves, waterfalls, rolling hills and temples of the past.
Many of these earth temples remain active and are visited by locals and shamans. Like Moray, Chincero offers a deep connection with the energies of the earth.
After spending as much time as we want at the site, we visit the native market at Chincero, colorful and fun. Here you will see many displays of fruits and vegetables, along with handicrafts.
MORAY: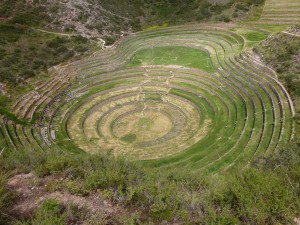 Step into the ancient/future. Today we will visit Moray, a site that resembles a sunken amphitheater with circular terraces carved deep into the earth. This ancient earth sculpture offers a unique and powerful earth connection.
PM: TIME FOR MEDITATION
OVERNIGHT IN WILLKA T'IKA
PM: TIME FOR MEDITATION
OVERNIGHT IN WILLKA T'IKA
DAY 09: November 24th
TUMIBAMBA
We complete our journey of the Sacred Valley this morning , we stop for our final ceremony at
Tumibamba .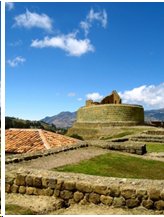 An archaeological site and ceremonial center in the shape of a knife ( tumi knife ) Most of the site is underground (it was covered by Inkas to avoid it's destruction.) According to Jorge Tumibamba is connected to the Heart Chakra and our closing ceremony here will integrate your journey on a cellular level in a very profound way.
Arrive Cusco early afternoon.
Some fun optional ideas for your afternoon early evening in Cusco best part? They're all cheap or free!
1. Have lunch with the local Peruvians at La Chomba in Calle Tullumayu.
2. Shop at the Baratillo – the smuggler's market – over Calle Ejercito on Saturday morning. Excellent for bargains on everything you can imagine, but rife with pickpockets, so don't bring any valuables, and don't say I didn't warn you.
3. Visit Museo Irki Yachay, where textiles and little kids art from remote Andean villages is on
4. Stroll through the weekend market in the Plaza Tupac Amaru – a great place to watch locals enjoying Cusco's ever-improving standard of living
5. Watch schoolkids practicing traditional dances in the plaza next to the tax office on Calle Plateros
OVERNIGHT IN CUSCO
DAY 10: AUG 16: TRANSFER TO THE AIRPORT IN CUSCO TO FLY TO LIMA AND TO
CONNECT WITH YOUR INTERNATIONAL FLIGHT TO HOME.
- DOUBLE OCCUPANCY: $3795.00
- SINGLE SUPPLEMMENT: ADD: US $ 970.00
Price Includes: Everything mentioned in the program, accommodation at 3 star hotels, daily buffet breakfast, Welcome dinner and 4 Dinners at Wilka T'ika, one Transfer IN / OUT the day in Cusco and your airport departuere transfer , private transportation during the tour by bus . Round trip train to Machu Picchu, Entrance fees to Machu Picchu for two days and one day Mandor falls , plus the bus up/down respectively, other entrance fees to other archaeological sites, Jorge as the guide throughout, contact with other shaman such as the Q'eros, ceremonies.
Price Does not Include: Anything not mentioned in the program, extra Transfer IN/OUT, meals which are not specified, flight tickets (domestic not international), departure airport taxes, travel insurance, personal items, tips, extras.
PUNO and LAKE TITICACA for THANKSGIVING !
November 25th -28th 2014.
DAY 01: Tuesday November 25th :
TRANSFER BY PRIVATE BUS FROM CUZCO TO PUNO.
We will say our goodbyes to those returning home at this point and look forward to continuing relationships with newly made friends. Extension travelers for the journey to Lake Titicaca will be preparing to leave at 7:30 AM for the journey south. Our enjoyable journey is laced with stops at interesting sites along the way.
ANDAHUAYLAS: Known as the "Sistine Chapel of the Andes", the 17th Century church is resplendent with outstanding gold leaf frescoes, an impressive doorway and a gilded altar. The church also houses fine paintings by Riano, Diego Quispe, Tito and Tadeo Escalante, as well as some anonymous artists and possibly the great Spanish painter Murillo.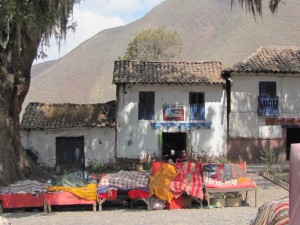 Square at Andahuaylas
RAQCHI (Temple of Wiracocha): An Inca temple of monumental dimensions, the temple is divided in two naves and each nave of 11 giant columns. Prior to its destruction by the Spaniards, the temple had what is believed to be the largest single roof in the Incan Empire, having its peak at the central wall, then stretching over the columns and some 25 meters (82 ft) beyond on each side. The site has many structures to explore.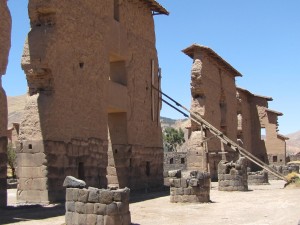 Raqchi
SICUANI: In this town we enjoy a typical Andean meal served buffet style.
LA RAYA: Midway on our journey to Puno we stop at high point of LaRaya to view the landscapes. We can see the Altiplano (arid and dry plains) uniting with the Quechua Zone – rivers and valley.
PUKARA: The most important and oldest ceremonial left of the Altiplano and the origins of the Andean Culture. Arrive in Puno at 5PM and check into our hotel. Relax…it's been a long day and we have gone up in altitude. Tonight and tomorrow are times for taking it really slow and relaxing.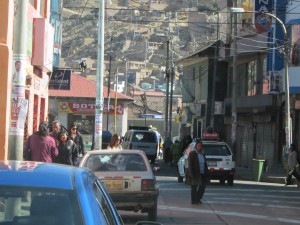 Puno Street Scene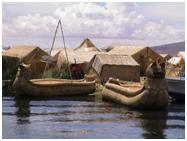 Day 2: Wednesday November 26th
UROS ISLANDS: A boat takes us out on the lake for our morning journey to the Uros Islands. The unique Uros people predate the Inca and live on forty two self-fashioned floating islands in Lake Titicaca. The Uros use bundles of dried totora reeds to construct reed boats and to make the actual floating islands. Most of the Uros people have moved to the mainland but a few hundred still live on and maintain the islands.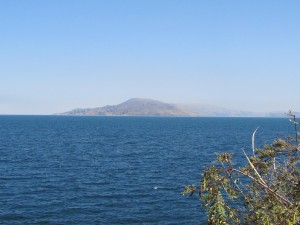 Day 3: Thursday - November 27th
Amaru Meru Doorway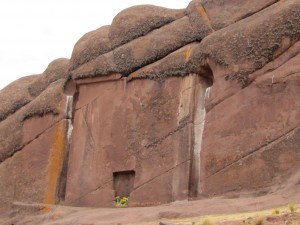 AMARU MERU DOORWAY: Early this morning we travel along the edge of Lake Titicaca to the Amaru Doorway. This is one of the highlights of our journey to Peru. In the book, Andean Awakening, Jorge Luis claims discovery of this portal. Located along the coastline of Lake Titicaca, the Amaru Doorway feels very alive. There are many tales surrounding this multidimensional portal – we will go and discover our own.
TUNUHUIRE: Here we will find monoliths related to the Tiwanaku Culture, the forerunners of many of the Pre-Inca cultures. In this place, Jorge will lead us in a special meditation to connect with the energies of the Lake.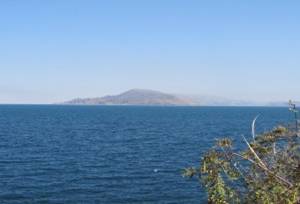 Day 4: Friday November 28th
Sillustani and transfer to the airport in Juliaca for your connection to Lima . As you say good bye to this magical land you will carry the vision and the magic with you .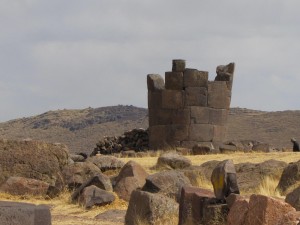 SILLUSTANI: On the shores of Lake Umaya near Puno Peru are tombs built above ground in tower-like structures called chullpas. This is a place of the Aymara people who the Inca conquered in the 15th Century. Many tombs have been compromised by grave robbers while others are left unfinished. Worship of ancestors was an integral part of the Aymara culture and the chullpas stand as a reminder of the connection between life and death. Insides of the tombs were shaped like a woman's uterus and – as is the tradition throughout Peru – corpses were mummified in fetal position to emulate and recreate their birth. Lizards are carved into the stones because of their ability to re-grow their tail – considered a symbol of life and rebirth. Openings in the buildings face east. The belief is that the sun is reborn by Pachamama each day
JULIACA AIRPORT: Our last stop on the journey. If you have chosen this extension, your flight from Juliaca to Lima should be booked and included in your airline reservation . From Lima you will continue home. We have concluded this mystical journey, for now. I say "for now" because I have learned that the gifts and realizations of the journey continue long after we have arrived home. And then, there are those who will choose to return again–and again.
PRICE PER PERSON IN US DOLLARS FOR THE 4 Day / 3 NIGHT PROGRAM
BASED ON 10 PAYING PAX AS MINIMUM
- DOUBLE OCCUPANCY: $ 750.00
- SINGLE SUPPLEMMENT: $ 340.00
Price Includes: Accommodation at 3 star hotels, daily buffet breakfast,
1 Farewell Dinner, one Transfer IN / OUT the day of arrival and departure for the whole group altogether, private bus Cusco / Chucuito, private transportation by bus during the excursions, sharing speed boat to Taquile, entrance fees to other archaeological sites.
Price Does not Include: Anything not mentioned in the program, extra Transfer IN/OUT, other meals than breakfast (except the Farewell Dinner), flight tickets (neither domestic not international ones), departure airport taxes, travel insurance, personal items, tips, extras.
*******************************************************
The Temples and Ceremonial Sites of the Maya
December 8 – 23, 2012
Izapa , Palenque, Bonampak, Yaxchilan, Becan, Coba Tulum – Doorways to Ascension . Rest and relaxation on the Riviera Maya
Pre journey experience to Izapa .
Our journey to the Yucatan, Mexico in 2012 is designed to allow each participate to absorb the transformational energies of the times.
Ancient Maya Long Count Calendar.
Rather than being a linear end-point, this cycle that is closing is naturally followed by the start of a new cycle. What this new cycle has in store for humanity is a mystery that has yet to unfold…
2012 is also considered the completion of the 26,000 year Precession of the Equinoxes cycle, and some say it also signifies the end of a 104,000 year cycle.
Retreat practice provides the opportunity for you to restore your energies, have time to rest and to let go of the day to day mundane responsibilities and focus on your own inner development and spiritual growth. You can learn to nurture yourself, restore a sense of balance and well-being, and open up to nature. A weight may seem to be lifted from your shoulders and you may be able to experience a fresh perspective that will renew your appreciation for life and your commitment to appreciate and use every precious moment.

Your tour leader :
Francisco Moo
A beloved tour guide for more than 20 years, Francisco Moo is of
Mayan heritage and the son of a shaman. Speaking multiple
languages, Francisco has led thousands of people on pilgrimages to
Mexico's greatest archaeological sites while sharing in-depth
knowledge of his people's history, beliefs and customs.
Spiritual Archaeology is part of our journey. We transmit basics to you so you can explore and enjoy the sites in the ways that matter to you. You will find plenty of time to yourself, and many new ways to receive the new encodements, visions, and transformational and healing energies available. This is your journey.
IZAPA DECEMBER 8-11 , 2012.
An introduction to Izapa

The archaeological site of Izapa was the most important as well as one of the largest of the pre-hispanic settlements of southern Chiapas, the Pacific coast, and a considerable part of Central America during the Preclassic or Formative Period. The various material expressions present at Izapa manifest great cultural advancement and social complexity, in the absence of which it would be impossible to envision the beginnings, characteristics, and development of the many peoples and societies that constitute pre-hispanic Mesoamerica.
The origins of Izapa circa 1500 B.C. remained buried and forgotten for many centuries after its abandonment somewhere around A.D. 1200. Nevertheless, at this site you can recognize elements that permit you to infer, if not the origins, at least one of the earliest manifestations of one of the cosmogonic and creation myths that gave unity and cultural identity to the peoples of southern Mexico, Guatemala, and Honduras. In some of the extraordinary sculptured monuments discovered at Izapa, scholars have identified elements and characters from the Popol Vuh, the sacred book of the Quiche Maya of Guatemala.
The archaeological wealth of Izapa is evident in the massive pyramidal structures scattered across the site, the great platforms built of packed earth veneered with stone, the dozens of sculptural elements such as stelae, thrones, and altars, all of which can be enjoyed by the visitor and appreciated as but a small sample of the importance of the site. Cutting edge research, both national and international, has recognized the importance of Izapa for understanding and explaining the development of the cultures such as the Olmec that anteceded it or were contemporaneous, while the societies that followed Izapa inherited characteristic cultural features that helped define a vast and complex cultural zone known as the Maya area. The Classic Maya would be difficult or even impossible to understand without our knowledge of Izapa and other communities that developed an original and advanced culture on the coastal plains of the Soconusco.
Site location and resources
Izapa is located in the eastern portion of the of Soconusco region, just a few kilometers from the Guatemala-Mexico border and less than 40 km from the Pacific Ocean coastline. The soils, although thin, were very fertile, which along with the abundant rains (an average of 3,596 mm annually) turned the coastal plains into an important producer of cacao and other staples. These without doubt must have been important economic resources since pre-hispanic times, allowing the population of Izapa to trade for obsidian and other goods necessary for their subsistence.
Archaeological relevance of Izapa
The first archaeological investigations at Izapa were carried out by Karl Ruppert in the 1930s and by the renowned A.V. Kidder of the Carnegie Institution. In 1941 Mathew Stirling visited Izapa, photographing and recording the site; his reports were published in 1943. A few years later, Philip Drucker carried out the first archaeological explorations on some of the site's structures. His results were published in 1947. During the decade of the 1960s various archaeologists from the New World Archaeological Foundation, then under the direction of Gareth Lowe, conducted more systematic explorations.
 Through these early explorations the antiquity and importance of Izapa to an understanding of the transition between the early Olmec civilization and the Classic Maya became apparent. In fact, there are but a few sites in Mexico (La Venta and Chiapa de Corzo, amongst others) and Guatemala (Kaminaljuyu, Abaj Takalik, and El Baul), that share some of the features present at Izapa, which permit the understanding of the development of prehispanic Mesoamerica, particularly in the Maya area.
Izapa: The creators of the calendar system
Some scholars have proposed that the people that built Izapa were also the creators of the calendar system. Several elements and arguments sustain this idea, for example, on August 13 and April 29, which are two very significant days for the Mesoamerican peoples, the zenith passage of the sun takes place at Izapa. It is worth mentioning that the "beginnings of time" or of the "counting of time" (better known to archaeologists as the Long Count), began precisely on August 13, 3114 B.C.. This implies that the Mesoamerican calendar system had its origin in Izapa. This system acquired such importance that many of the most important sites of ancient Mesoamérica laid out their structures following this conception, that is, orienting their buildings in commemoration of the basic principles of the calendar system.
Our Journey begins!
DAY 1 – DECEMBER 11TH
ARRIVE–Tuxtla/Gutierrez–Schedule your international flight to arrive early in the day. We will pick you up at the airport and get you checked in to our hotel. Contact us for assistance with airline reservations. We rest tonight and travel after breakfast tomorrow morning to our first destination.
Day 2 – December 12th
SAN CRISTOBAL DE LAS CASAS—One o the most picturesque and colorful towns in all of Mexico, San Cristobal de las Casas is nestled in the mountains of Chiapas. This historic town is a marketing center for Mayans living in nearby mountain communities. The Spanish conquistadors founded the city in 1528 leaving a legacy of cobblestone streets, houses with red tiled roofs and an abundance of flowers. The Colonial architecture is a backdrop for a thriving art scene as well as the vibrant indigenous culture.
Luminous will introduce us to Spiritual Archaeology Basics. These skills will support us throughout our journey – and we will have a lot of fun seeing how well our insight and intuition serves us. A ceremony is planned for 12/12 in a tropical forest steeped in the teeming vibration of nature.
This evening we have a Welcome Dinner at Museo Na-Baloom in its library with the group and will go over the itinerary and scheduling and get everyone comfortable and oriented. What a journey ahead! B/D
DAY 3 – DECEMBER 13th
SAN JUAN CHUMULA—This morning, the second section of Spiritual Archaeology Basics will be shared. After lunch we leave for the Tzotzil village of San Juan Chamula, famous for its mystical church where a unique blend of Catholic and Mayan beliefs are practiced. Here, traditional healing rituals are practiced in combination with Catholic prayers. We walk through the food and handicraft market San Juan Chumula. The women of Chamula are considered the region's finest weavers and we will see the "huipiles" (blouses) and other items they produce. We continue on the Zinacantan, a regional center for the flower trade. Evening is free time to explore San Cristobal de las Casas. B
Day 4 – December 14th
SAN CRISTOBAL DE LAS CASAS TO PALENQUE – An early departure takes us to TONINA'. This site is one of the last great Classic Maya sites and sits overlooking a stunning valley. Its in-the-round monuments were produced at the end of the Olmec era. One of the tallest pyramidal structures in the Mayan world, Tonita' centers on a grand plaza and a series of seven stone platforms on a hillside. We stop at the waterfalls of Agua Azul for a ceremony preparing us for Palenque. We arrive at Palenque later today and check into our amazing accommodations in the jungle.
Day 5 – December 15th
PALENQUE – Nestled in the lush green jungle like a sparkling crystal Palenque offers a wealth of exploration possibilities for the Spiritual Archaeologist. In this mystical city in the rainforest clouds, we walk in the footsteps of the ancients and imbibe their wisdom.
The Temple of Inscriptions is one of many temples and structures here. Pakal, the 7th Century ruler of this great civilization is said to have carried knowledge of mathematics and astronomy and the future that could only have come from the stars.
The stucco facades of the royal palaces depict the rulers of over ten centuries ago. Panels of written texts illuminate the lives of the powerful lords and ladies, their births, marriages, accessions to the throne, and their bloodletting rituals to. Inside the palaces and temples, lengthy hieroglyphic texts can be found on tablets. The Group of the Cross offers three magnificent temples to visit.
Day 6 – December 16th
BONAMPAK – A morning departure takes us to Bonampak– maintained by the Lancandon Maya – a tribe that was never found by the conquistadors and has maintained the Mayan culture. Man-eating Jaguar is the king represented on the three rooms of stunning murals within a palace. Immense carved stone monoliths at the site tell of the close relationship with Xachilan –our next stop.
YAXCHILAN – We travel deep within the rain forest, down the Usumacinta River to reach Yaxchilan. Here, the rulers Itzamnaaj Bahlam (known as Shield Jaguar) and his son Yaxuun Bahlam (Bird Jaguar) built towering memorials to themselves in the 8th century. More than 125 carved monuments exist at Yaxchilian, including altars, thrones, steps, walls, and stelae. The jungle sounds of howler monkeys and scarlet macaws flying overhead and the constant sound of the rushing river provide a backdrop that will remain in your memory for years to come. We return to Palenque late today.
Day 7 – December 17th
PALENQUE TO CHICANNA – An early departure takes us through many small villages on our way to Tulum. Along the way, we visit the archaeological site of BECAN. Becán was "discovered" by archaeologists Karl Ruppert and John Denison in 1934—the name Becan means trench (thought to have been a defense system), referring to the conspicuous system of moats that surrounds significant portions of the site. The ancient Maya name of the site is not known.
The earliest archaeological evidence from Becán dates from 550 B.C.–a period of time when the Olmec culture was declining other sites. The main section of Becan is ringed by a moat and there are also remains of a wall—11 feet tall in some places. There are 20 major constructions associates with the plazas and patios to explore.
Day 8 – December 18th
CHICANNA TO RIVIERA MAYA—An early departure takes us to the CENOTE AZUL for lunch and a swim. Continuing on, we check into our all-inclusive hotel on the Riviera Maya. This will be our base for explorations in Quintana Roo.
Day 9 – December 19th
Relax today on the Caribbean. Enjoy the sun and sand and beautiful waters. This is a free day to spend at leisure.
Day 10 – December 20th
COBA—This morning we travel to Coba. These extensive ruins in the jungle are home to numerous species of birds, butterflies and animals. Large ceiba trees intertwine with ancient stonework and the intensely beautiful natural setting of Coba is a pleasure to explore.
Coba is located near five of the largest lakes in the Yucatan Peninusula and covers about 28 square miles (we will have bikes to ride). The site is large with approximately 15,000 structures throughout, mostly unrestored,
Traditional archaeological evidence suggests Coba may have had as many as 55,000 residents. As many as fifty sacbes (ancient roads) led into this huge Mayan city center, one of them over 62 miles long–the longest in the Mayan world.
The architecture is similar to that of Tikal. There are stories that tell of a ruling queen at Coba who married a priest from Tikal—which has the tallest Mayan pyramid. At Coba, the Nohoc Mul pyramid (the tallest in the Yucatan at over 126 feet) and the building techniques employed at the site are characteristic of the Petan region of Guatemala (where Tikal is located).
From the top of the Grand Pyramid at Cobá ione can see over the jungle canopy for miles, unexcavated temple mounds peeking above the trees. The small temple building which crowns the pyramid has two small carvings that are known as a ¨diving god¨ over the door. There are many theories about the meaning of these curious carvings, which are also found in Tulum. They have also been called ¨the bee god¨ or ¨the god descending¨ and have been associated with the planet Venus.
Day 11 – December 21st
TULUM—An early entry to Tulum gives us time for meditation and exploration.

Day 12 – December 22nd
CHICHEN-ITZA—A journey to Chichen-Itza this morning–the Yucatan's grandest, most famous and most visited archaeological site. A rugged place of massive temples, soaring pyramids, stunning carved columns and massive ball-courts make up the area.
The focal point of the region, an amalgam of an older Mayan city and newer Toltec settlement, is the towering Castillo pyramid, which is fraught with cosmological symbolism.
There is a sacred cenote, the astronomical Observatory, the imposing Temple of Warriors, the reclining Chac Mool figure, and the Nunnery. During the fall and spring equinoxes, the sun's shadow forms an enormous snake's body, which lines up with the carved stone snake head at the bottom of the Castillo pyramid. Explore this famous site for what you can discover.
Day 13 – December 23rd
CANCUN TO HOME—You will be transported to the airport to board your flight home in time for Christmas. Maybe you did your Christmas shopping in Mexico and have unusual and fun gifts to share. Most of all, we shared an important time together, exploring and getting to know each other—receiving the messages from the ancient sites visited.
EARLY REGISTRATION IS RECOMMENDED FOR THIS JOURNEY.