Self-Empowered Wisdom
2021 Presenters
June 3-6, 2021
Kelley Alexander, JD

serves as the Program Director & Director of Alternative and Complementary Health and as a Counselor with the Sanctuary at Sedona. She's an Ordained Minister; Certified Shamanic Breathwork® Facilitator; Member of the Association for Comprehensive Energy Psychology; Member of National Institute for Holistic Addiction Studies; Member of American Holistic Health Association, Kelley has BA in World Religions, graduate work in psychology, a Juris Doctorate and is a graduate of the Four Winds Healing the Light Body School, a premiere energy medicine program.
Gregg Braden

is a five-time New York Times best-selling author and is internationally renowned as a pioneer in bridging science, spirituality and human potential. From 1979 to 1990 Gregg worked for Fortune 500 companies as a problem-solver during times of crisis. He continues problem-solving today as he weaves modern science and the wisdom preserved in remote monasteries and forgotten texts into real world solutions. His discoveries have led to 12 award-winning books published in over 40 languages. Gregg has shared his presentations with the United Nations, fortune 500 companies, indigenous elders, religious leaders, diplomats and the U. S. military. He's featured in media specials airing on major networks throughout the world. The United Kingdom's Watkins Journal lists Gregg among the top 100 of "the world's most spiritually influential living people" for the 5th consecutive year, and he is a nominee for the prestigious Templeton Award established to honor "outstanding individuals who have devoted their talents to expanding our vision of human purpose and ultimate reality."
Sunny Dawn Johnston is a transformational thought leader, changemaker, psychic medium and spiritual business mentor. Author of twenty books, including her flagship bestsellers, Invoking the Archangels and The Love Never Ends, which have become cornerstones for many of her keynote topics like intuition, mediumship and the Angelic Realm.
Dr. Beth McDougall

is Founder and Medical Director of CLEAR Center of Health in Mill Valley, California. Long known as a medical detective, Beth McDougall MD, excels at unravelling complex, multifactorial conditions, and specializes in helping patients with chronic illness and neurodegenerative diseases. She is advancing a new paradigm, one at the intersection of medicine and contemporary physics to transform the practice of medicine and unlock the secrets to radical healing. Her book introducing this paradigm, Your Pristine Blueprint is due out Summer 2021.
Beth McDougall, MD / Chief Medical Officer of RTG
New thinking in physics is expanding our understanding about the nature of reality. This new understanding of the true nature of reality is that we exist within a field of energy and information and this field is what dictates all existence.
Resonant Technologies Group (RTG) is a holding company that has 12 sub-entities with technologies based on this physics in various sectors including Agriculture, Health, Energy, and natural resources and water. RTG and its founders have been working for almost two decades to develop technologies that will have the opportunity to change the human experience.
Your Pristine Blueprint
The Missing Key to Longevity and Reversing Disease
We have an opportunity for a more expanded understanding about the nature of reality that opens up radically new solutions for personal and planetary health. Contemporary physics tells us that we exist within the Unified Field - a highly organized sea of infinite energy and information. Not only do we exist within it, but it exists within us and we and every other aspect of our material reality emerges as a unique expression of this limitless sea.
Within the Unified field you have a Pristine Blueprint that channels energy and provides the information that governs the formation, maintenance, and coordination of your body and physiology. Informed by your unique genetics, astrological influences at the time of your conception, as well as by the imprint of your soul; your blueprint becomes the template for your physical form and operating instructions for your exquisitely complex physiology. Your degree of health—and even the rate of your aging—directly correlates with how well your physical body resonates with your Pristine Blueprint and therefore how well you extract energy from the unified field funneled through the correct information. The solution for achieving vibrant health and reversing disease is possible through connecting to the exquisite intelligence of your body and ultimately to your Pristine Blueprint.
· Take part in a group meditation where we pass through the threshold of limited thinking into a world of higher possibility and imagine what it is like to live in harmony with all of creation in a healed body operating at its full potential on a healthy planet. An important step in creating such a world is to imagine it, to envision what is possible when we are connected with all of life and when everything is in resonance with the Unified Field. As we tend to our own personal healing, it is imperative that we join forces and collectively dream a new world into being.
·
All of life is miraculous, but it is based on laws of physics and the nature of reality. When we understand how it works, we can create miracles predictably.
·
Everything we encounter in our lives has a unique energetic signature. Some of these enhance resonance with our blueprint and some provide misinformation that interferes with our resonance. Accumulated misinformation begins to affect the quality of our health and life.
·
We will look at health and lifestyle choices through a new lens and different solutions for reversing disease.
·
Learn how to elevate the energetic vibrations of your body, your thoughts, your relationships, the food you eat and the water you drink to be in harmony with your Pristine Blueprint.
·
Dr. Beth will share how accessing her intuition helped her on your own healing journey. She will share real-life stories of dramatic recoveries with her patients as they learned to apply these fundamental principles to their lives.
·
Learn about new technologies based on scientific understanding about the infinitely abundant, interconnected Unified Field. These technologies are being modeled after Nature herself, working in resonance with the Unified Field.
·
Our degree of health—and even the rate of our aging—directly correlates with how well your physical body resonates with our Pristine Blueprint and therefore how well we extract energy funneled through the correct information from the Unified Field.
Note: Lynne will not be with us in person. She will present her program via live stream.
Current travel between the US and England is unpredictable and restricted at this time.
Lynne is one of the central authorities on the new science and consciousness. She is award-winning author of seven books, including the internationally bestselling The Intention Experiment, The Field, The Bond and The Power of Eight and her books are in some 30 languages.
Lynne is also architect of the Intention Experiments, a web-based 'global laboratory,' and she was prominently featured in the plotline of Dan Brown's blockbuster The Lost Symbol.
A highly sought after public speaker, who has spoken in nearly every continent, Lynne has also appeared in many documentaries, including What the Bleep?! Down the Rabbit Hole, I Am, The Abundance Factor, The Healing Field and The 1 Field.
Dean Taraborelli is the Founder, Administrator, Counselor at the Sanctuary at Sedona. He has a BA in Political Science and is currently Senior teaching staff at Four Winds Society, an international school of energy medicine. His credentials also include being an Ordained Minister; a Certified Shamanic Breathwork® Facilitator; a Founding Member Society for Shamanic Practitioners; a Member of Association for Comprehensive Energy Psychology; a Member of National Institute for Holistic Addiction Studies.
In battling his substance abuse problem, Dean gained real expertise in being on the treatment side of rehab centers. He was a patient at many well-regarded addiction treatment institutions in the country, some more than once. He has been in over 10 inpatient drug rehabilitation centers, participated in several inpatient extended care programs, numerous outpatient and intensive outpatient programs, years of private therapy, support groups, 12-step programs, several detox programs, and numerous medication protocols. While many of these worked temporarily on the symptoms of the problem, he was unable to achieve any real sustainable change. As conventional therapies and approaches failed, he expanded his search worldwide to learn about mental health and recovery approaches. Dean has traveled extensively to sacred sites in over 60 countries to study holistic health, world mythology, religion, spirituality, wisdom traditions, and indigenous healing and wellness practices.
Havasupai Chief and Ceremonial Keeper
Uqualla is Havasupai, of the Blue Water People (Havsuw' Baaja), known as the guardians and sentinels for the Grand Canyon with its magnificent brilliant blue waterfalls. Havasupai land is revered as the birthplace and medicine apothecary to many of the Colorado Plateau tribes.
At the young age of 26, Uqualla was chosen by his people as their chief and served as such for many years. Today he continues to work for his people on the Elders Council of the Colorado Plateau Conversations and the Havasupai Spiritual Advisory Council. He's the planning member for the annual Pai Peoples gatherings and a delegate to the 7th Generation annual meetings.
Uqualla engages unstintingly as an agent of change at the forefront of many indigenous human rights initiatives, standing up for environmental matters concerning tribal communities -- mobilizing, liaising, speaking, writing and inspiring.
Internationally, Uqualla serves as a cultural ambassador of traditional ways. He's an eloquent advocate on cultural and cross-cultural matters in the US and globally, who acts as a bridge and translator between indigenous and western knowledge and understanding.
Uqualla is a keeper of songs and ceremonies and an inspired orator who addresses audiences on infractions to the wellbeing of global citizens and the Earth, always encouraging an inclusive, positive resolve.
Post retreat seminars on June 7th
Joseph " White Wolf" Cosgrove on Monday 7am-11am
Joseph "White Wolf" Cosgrove was born in northern Canada and spent his early years deep in the wilderness alongside his fur trapper Dad. Joseph became spiritually awake as a young boy developing a deep love and respect for animals. He was deeply grounded in the spirit world where he could see the connection of all living things. Rooted with a deep love, respect and communion with the earth, Joseph brings his gift of visions and storytelling to assist people in healing emotional and physical traumas. Joseph is most renowned for his Dream Vision Journeys and Animal Messages. As a Spiritual Teacher and Minister, he works with people from around the world doing land clearings, wedding ceremonies, customized tours and Spiritual Intensive Workshops.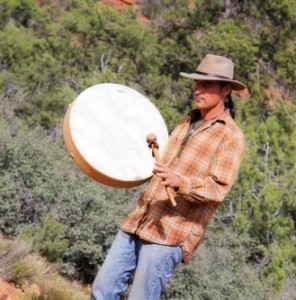 GRATITUDE TO OUR SPONSORS!

**********************************************************************
• • • • •
______________________________________