Self-Empowered Wisdom
11 11 - 11 13, 2022 in Sedona!
Celebrating 22 years in Sedona, AZ
Join us in collaboration and celebration in Sedona, AZ.
Our venue is the Sedona Creative Life Center.
We open in Sacred Ceremony with Native American Elders and continue to open each day with meditation and sound healing throughout the weekend. You may enjoy nutritious, nurturing snacks during our coffee and tea breaks each day. And Saturday evening brings a musical celebration with Martha Reich Braden! JOIN US for the day or the week end! REGISTER HERE
We are honored to introduce our esteemed presenters!
Beth McDougall, MD ~ Chief Medical Officer of RTG
www.rtg.io/and clearcenterofhealth.com
New thinking in physics is expanding our understanding about the nature of reality. This new understanding of the true nature of reality is that we exist within a field of energy and information and this field is what dictates all existence.
Resonant Technologies Group (RTG) is a holding company that has 12 sub-entities with technologies based on this physics in various sectors including Agriculture, Health, Energy, and natural resources and water. RTG and its founders have been working for almost two decades to develop technologies that will have the opportunity to change the human experience.
Your Pristine Blueprint:
The Missing Key to Longevity and Reversing Disease
We have an opportunity for a more expanded understanding about the nature of reality that opens up radically new solutions for personal and planetary health. Contemporary physics tells us that we exist within the Unified Field – a highly organized sea of infinite energy and information. Not only do we exist within it, but it exists within us, and we and every other aspect of our material reality emerges as a unique expression of this limitless sea.
Within the Unified Field you have a Pristine Blueprint that channels energy and provides the information that governs the formation, maintenance, and coordination of your body and physiology. Informed by your unique genetics, astrological influences at the time of your conception, as well as by the imprint of your soul; your blueprint becomes the template for your physical form and operating instructions for your exquisitely complex physiology. Your degree of health – and even the rate of your aging – directly correlates with how well your physical body resonates with your Pristine Blueprint and therefore how well you extract energy from the Unified Field funneled through the correct information. The solution for achieving vibrant health and reversing disease is possible through connecting to the exquisite intelligence of your body and ultimately to your Pristine Blueprint.
Take part in a group meditation where we pass through the threshold of limited thinking into a world of higher possibility and imagine what it is like to live in harmony with all of creation in a healed body operating at its full potential on a healthy planet. An important step in creating such a world is to imagine it, to envision what is possible when we are connected with all of life and when everything is in resonance with the Unified Field. As we tend to our own personal healing, it is imperative that we join forces and collectively dream a new world into being.
All of life is miraculous, but it is based on laws of physics and the nature of reality. When we understand how it works, we can create miracles predictably.
Everything we encounter in our lives has a unique energetic signature. Some enhance resonance with our blueprint and some provide misinformation that interferes with our resonance. Accumulated misinformation begins to affect the quality of our health and life.
We will look at health and lifestyle choices through a new lens and different solutions for reversing disease.
Learn how to elevate the energetic vibrations of your body, your thoughts, your relationships, the food you eat and the water you drink to be in harmony with your Pristine Blueprint.
Dr. Beth will share how accessing her intuition helped her own healing journey. She will share real-life stories of dramatic recoveries with her patients as they learned to apply these fundamental principles to their lives.
Learn about new technologies based on scientific understanding about the infinitely abundant, interconnected Unified Field. These technologies are being modeled after Nature herself, working in resonance with the Unified Field.
Mark Hinds, CEO & Founder at Resonant Technologies Group
What is resonance physics?
It is the creation of solutions to the most vexing physics challenges and developing technologies to solve the greatest problems facing humanity by observing how nature functions and emulating that observation.
Our group of doctors, inventors, scientists, creators, support team and others have been working for almost a lifetime to manifest the science and technologies based on this principle.
Beginning in mid-2021, the first technologies based on resonance physics went to market. By mid-2022, a scientific paper will be published bringing a revolution in the understanding of how to work in resonance with nature to solve almost every challenge presented today. By late 2022, up to six technologies solving problems in health, agriculture, energy, transportation and more will be brought to the market.
Although this may appear as hubris, many years from now, people will remember three revolutions.
1. The Industrial Revolution.
2. The Analog to Digital Revolution.
3. The Revolution from Dissonance to Resonance.
The last will be the one most remembered since it will solve problems, not create them.
Dean Taraborelli, Founder, The Sanctuary at Sedona
In battling his substance abuse problem, Dean gained real expertise in being on the treatment side of rehab centers. He was a patient at many well-regarded addiction treatment institutions in the country, some more than once. He has been in over 10 inpatient drug rehabilitation centers, participated in several inpatient extended care programs, numerous outpatient and intensive outpatient programs, years of private therapy, support groups, 12-step programs, several detox programs, and numerous medication protocols.
While many of these worked temporarily on the symptoms of the problem, he was unable to achieve any real sustainable change. As conventional therapies and approaches failed, he expanded his search worldwide to learn about mental health and recovery approaches. Dean has traveled extensively to sacred sites in over 60 countries to study holistic health, world mythology, religion, spirituality, wisdom traditions, and indigenous healing and wellness practices.
Saturday evennig concert 7-8 pm included!
Monday post conference workshop with Martha not included details and REGISTER HERE
Award winning Santa Fe-based singer-songwriter and multi-instrumentalist, Martha Reichwww.marthareich.com
has performed around the world and shared stages with Melissa Crabtree, Consuelo Luz, Gregg Braden, Reverend Horton Heat and others, as well as opening for Kate Macleod and performing at the Sundance Film Festival. Originally from New England, she received an B. F. A. in illustration from Parsons School of Design and Philadelphia College of Art, but music called and she relocated to Santa Fe in 1999 where she has since released five CDs including the award winning album entitled BRAVE BIRD.
Her 2018 release, BRAVE BIRD, was described as "stunning and heartbreaking" by Americana Highways and earned her a Gold Medal for Female Vocalist in the 2018 Global Music Awards, as well as the LA Critics Award for Best Folk Artist. Often compared to Joni Mitchell and Joan Baez, Reich is deeply inspired by nature and her unique style features an honesty and vulnerability that evokes "a sound almost woven out of the earth." She is often joined on stage and on recordings by longtime collaborator, cellist Michael Kott, who "presents the cello as a portrayal of infinite compassion".
Reich was awarded three Indie Music Channel Awards in 2020, the 2019 New Mexico Music Award for Best Singer-Songwriter Song FADE AWAY, and 2 Clouzine International Music Awards, for Best Indie Album BRAVE BIRD, and Best Acoustic Folk Song for THE LETTERS. She previously won Global Music Awards in 2017 and 2016, The Southwest Independent Music Award in 2015 and a 2014 New Mexico Music Award for Best Folk Song.
Martha is also a Certified Music Practitioner, playing for Hospital patients, those in Hospice and people living with Alzheimer's and Cancer.
Her music can be heard on PANDORA Radio as well as national and international radio stations. It is available via iTunes, Spotify, AppleMusic, BandCamp.
S
unny Dawn Johnston
Living in the Multiverse
There is a vast amount of life to discover beyond this 3D world. There is so much in front of you in your environment right now that you cannot believe it all. For many of us, it often feels like what we see is exactly what is. But what if we really are connected to and part of something greater? All it takes is a little curiosity and an open mind.
I'm inviting you to join me and my soul musician, Kris Voelker and I help you to discover, connect and rise to meet the guidance and support that the higher dimensions and your Spirit is waiting to share with you. We are not just here in this physical world. We are physical beings. We are spiritual beings. We are mental beings. We are emotional beings. There are multiple layers and levels to us. We are in multiple planes and have multiple connections in a variety of different ways.
When you expand your awareness, you recognize that you're getting information and you're connected to other perceptions or sources than what you perceive in your physical surroundings. I will teach you about the four different dimensional doorways and help you to tune into and experience guidance and support from the higher realms and embrace your true power and potential.
In this interactive experience, you will learn ...
What you can be through the power of symbols

What is your true nature through the presence of animal totems

What spiritual meaning and insights are available through the power of numbers

How to master your reality through intentional living by working with the Ascended Masters
We are here to support and guide you as you harness your innate multi-dimensional power and awareness so that you navigate your three-dimensional reality with ease, grace and the unlimited wisdom and potential of your Spirit.
POST RETREAT PLAY DAY WITH MARTHA!
Expressive ART and POETRY from the Heart Workshop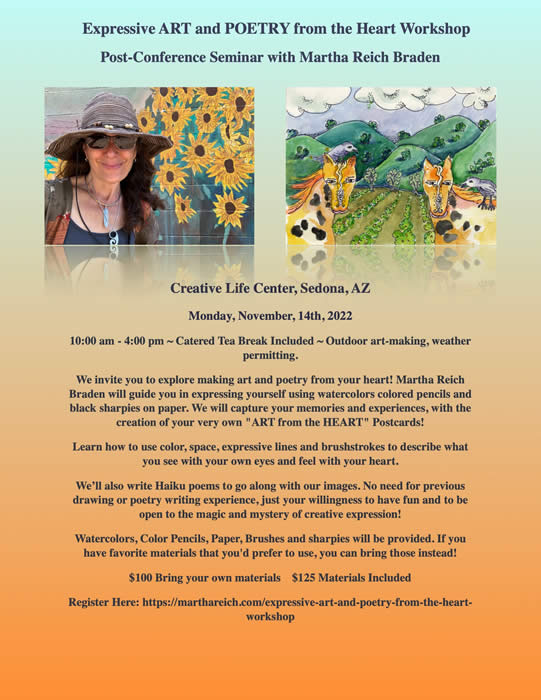 Monday, November 14th, 2022 in the art cabin
10:00 am - 4:00 pm Tea Break with snacks included!
We invite you to explore making art and poetry from your heart!
Martha Reich Braden will guide you in expressing yourself using watercolors, colored pencils and black sharpies on paper.
We will capture your memories and experiences, with the creation of your very own "ART from the HEART" Postcards!
Learn how to use color, space, expressive lines and brushstrokes to describe what you see with your own eyes and feel with your heart.
For those who feel inspired, we will write Haiku poems to go along with our images. No need for previous drawing or poetry writing experience, just your willingness to have fun and to be open to the magic and mystery of creative expression!
$100 Bring your own materials
$125 Materials Included
Outdoor art-making, weather permitting.
PAST EVENTS
Self-Empowered Wisdom June 3-7, 2021
Self-Empowered Wisdom 2021 Emerging Stronger!
**************************************************************************
SOLD out months in advance!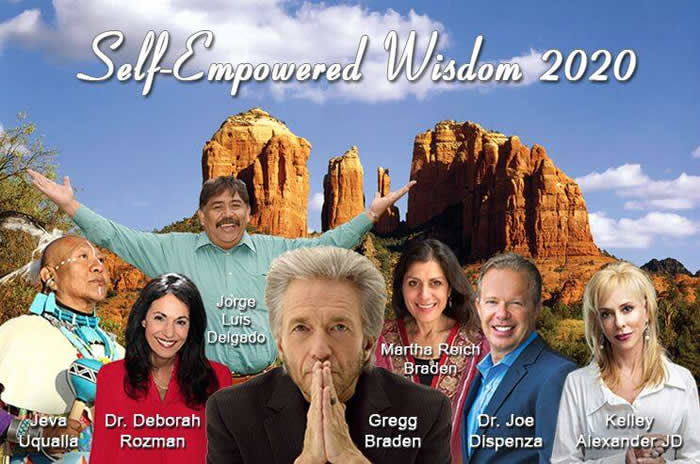 2020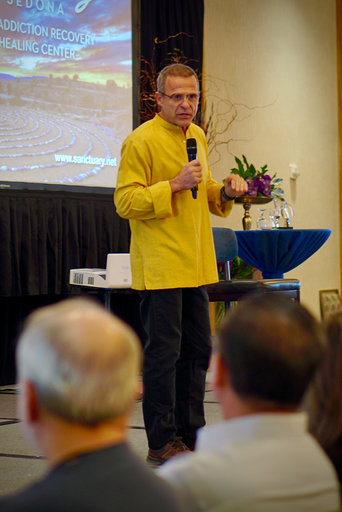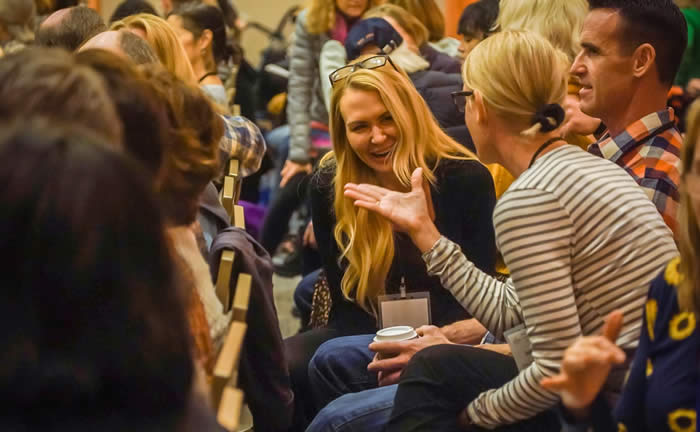 2019 Sedona Performing Arts Center
SOLD Out 4 months in advance!
The 2019
gathering of the year in magical Sedona, AZ.
June 6th - 9th 2019*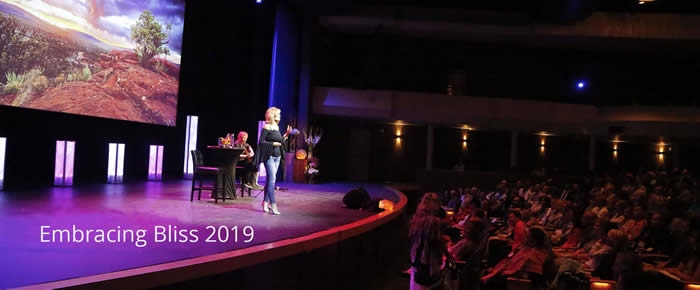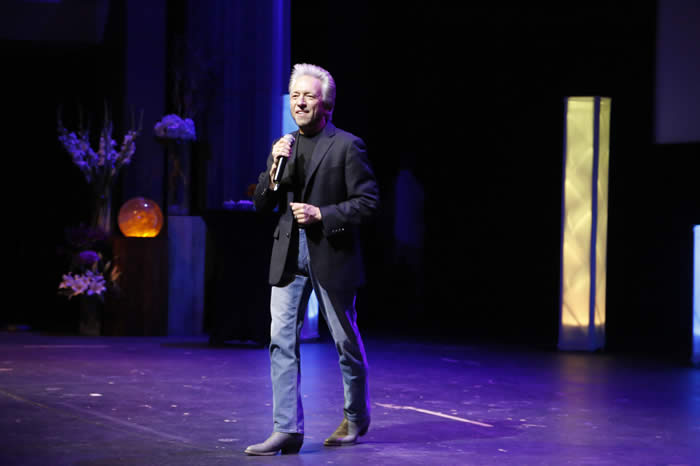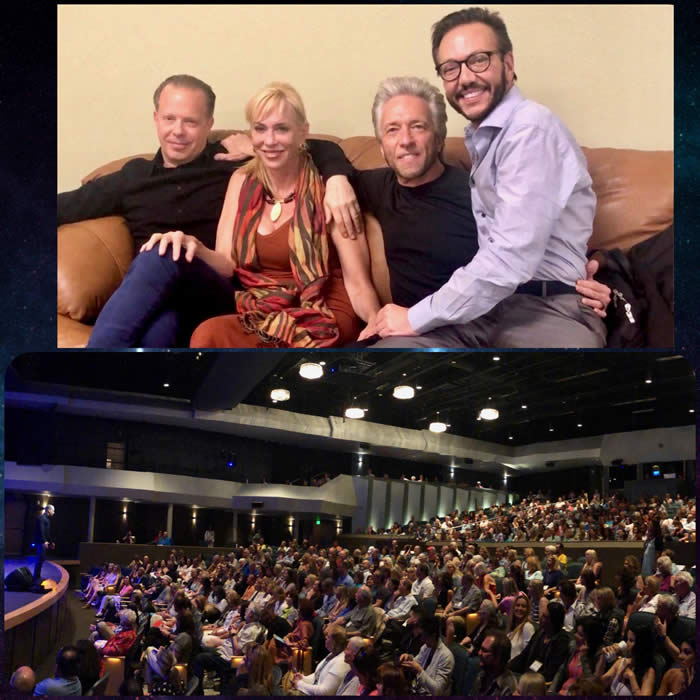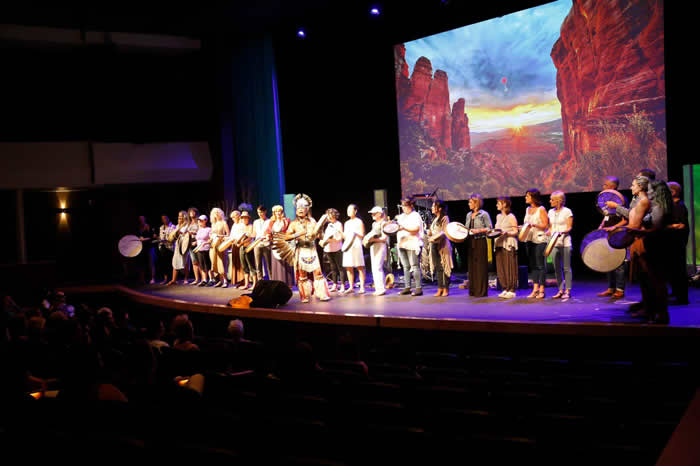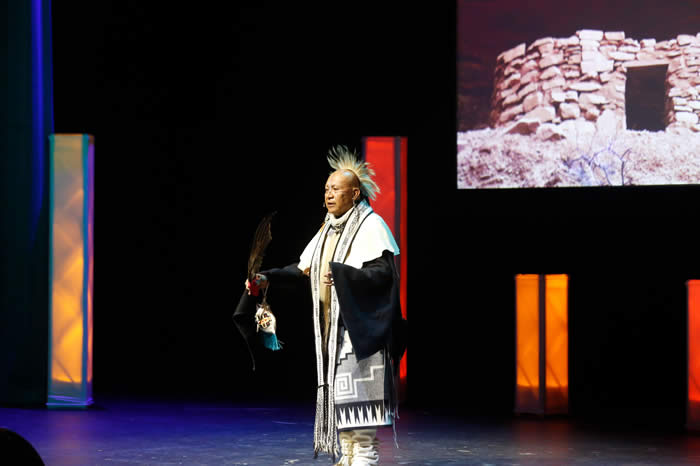 and
Contact us! 928-451-4670
or email: info@stellarproductionslive.com
"This is a time in history when it's not enough to know. This is a time in history to know how." -- Dr. Joe Dispenza
Join us February 20th - 24th, 2020 in mystical Sedona, AZ.
**********************************************************************
2018 sold out 4 months in advance!

Thank you to our 2018 presenters!

Your love and wisdom carries us forward.
2016 sold out months in advance!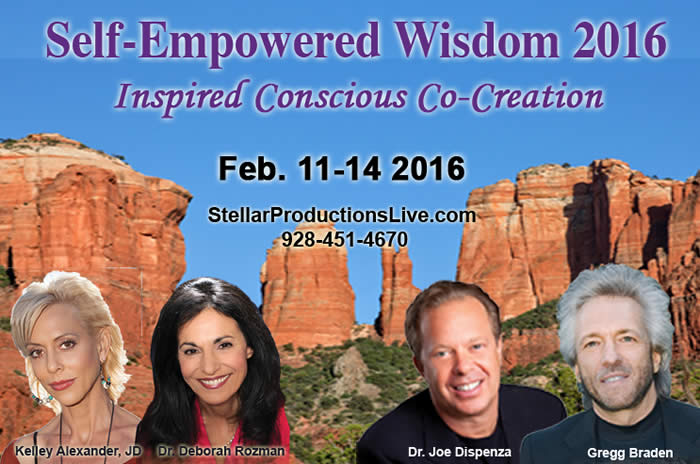 2015 Sold Out months in advance!
Sunday night dinner concert at Poco Diablo Resort March 2015

2014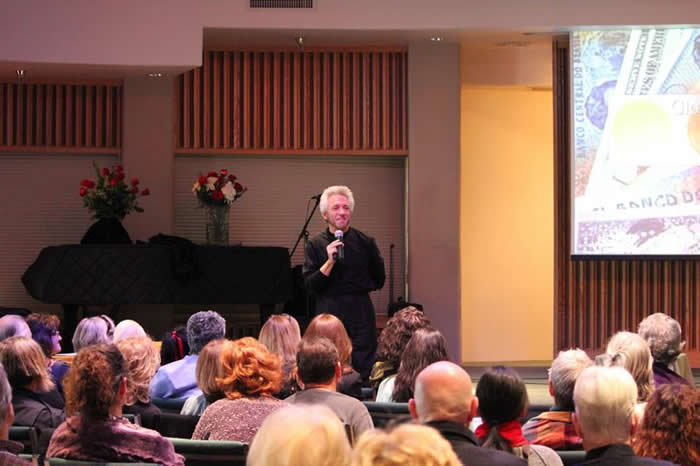 2014 Gift in Shift Sedona April 24-28th
Gregg Braden shares his new book
The Turning Point
and an all new Friday evening and full day Saturday
Sedona program just for you !
Gregg Braden in Sedona!!
All new program for 2013!
Sold out !~
Gregg Braden Convergence Conference!
Gregg Braden in Sedona!
Thursday night opening ceremony celebration!
Gregg Braden Friday night from 8pm - 10pm
Gregg Braden all day Saturday
Saturday evening concert with Martha Reich
Spend all day Sunday with renowned Sedona authors and workshop leaders.
Monday optional workshops.
May the Spirit of the new year
be our celebration of great things to come in 2013.
Find the GIFT in Shift ~!
We are happy to announce an addition to the Gift in Shift
Conference Convergence conference with Gregg Braden

Saturday evening concert with Martha Reich
Sunday all day with many of Sedona's most renowned authors , teachers and workshop leaders. Friday night opening address Sunny Dawn Johnston and Kris Volker
Convergence : Thriving in the World's Perfect Storm
Friday, February 15, 2013 • Saturday, February 16, 2013
Gregg Braden
This activity has been approved by the American Holistic Nurses Association, an accredited approver of continuing nursing education by the American Nurses Credentialing Center's COA.
Approved through January 26, 2014
Approval for contact hours through the AHNA is based on an assessment of the educational merit of this program and does not constitute endorsement of the use of any specific product or modality in the care of clients.
Nurses must attend the entire program on Saturday, February 16th to receive 7 contact hours of credit.
• • • • •
Heart Wisdom ~ Empowerment
March 2-4, 2012
Join us in the mystical red rocks of Sedona, as we share
the Gift of our Shift; a new way of being in joy and abundance, living a life of Love, Wisdom, and Service.
Dialogues with presenters who are bridging the knowledge and intellect of the brain with the innate knowing of the heart will empower you to shine your brightest light.
Live your life with the Passion, Power and Purpose of Heart Wisdom!
See you soon!
in Sedona, AZ.
Opening Keynote Presenters Dr. Joe Dispenza
Saturday and Sunday Keynote Presenters Kelley Alexander, Wufing von Rohr, Sunny Dawn Johnston and Ronna Prince

Ealy morning meditation with Helen Wood
******************
March 5th with Dr. Joe Dispenza
LEVEL 1.5 WORKSHOP - Understanding the Power of Your Mind
By understanding how your mind works, you can learn how to unlearn negative habits and emotions to eliminate self-destructive behaviors, and rewire your brain with new thoughts and beliefs that will help you heal your mind and body and create new results and possibilities in your life. In this groundbreaking workshop, Dr Joe will explain:

Why we keep repeating the same patterns in our life
How we change and why change is so difficult
Why disease is created and how we can heal
How to break unwanted emotional patterns
The common thread underlying spontaneous remissions
How to create new patterns and habits in the brain and body
The 10 steps to change and reinvention of self

With the knowledge of how your mind works, Dr Joe will then guide you through a step by step meditation process to overcome destructive emotional states such as insecurity, unworthiness, anger, and so on – and repplace them with new states of mind. You will leave this workshop having made significant changes in your life by rewiring your brain, and the tools that enable you to apply this process at any time in the future.
SOLD OUT!
Gregg Braden in Sedona!!

New Program for 2012!!

Registration Opens at 5:00 PM

Doors to the conference room open at 6:00 PM


Friday, February 3, 2012, 6:30 - 9:00 PM


Saturday, February 4, 2012, 9:00 am - 5:00 PM

Door open at 8:00 am
Conference Review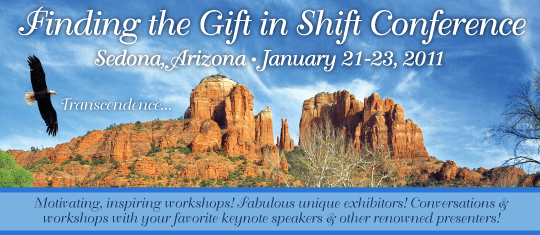 SOLD OUT!
Finding the Gift in Shift Conference: Transcendence
Sedona, AZ, January 21-23 2011
Opening address Sarah McLean
Director of The Sedona Meditation Center
Opening keynote speaker Gregg Braden
Keynotes
on Saturday and Sunday
Cynthia James and Dr. Rocco Errico
Special Guest Dr. Raymond Moody
We were pleased to once again hold the conference at
1752 State Route 179, Sedona AZ 86336
***********************

Dr. Joe Dispenza
April 17 & 18, 2009
We had a great time losing our minds and creating new ones with Dr. Joe! He's heading to Sedona for our January Gift in Shift conference, be sure to be there!
***************************************************
Change: Finding the Gift in Shift !
January 9 - 11, 2009

The 2009 conference of the year was held in Sedona, AZ at the Radisson Poco Diablo Resort.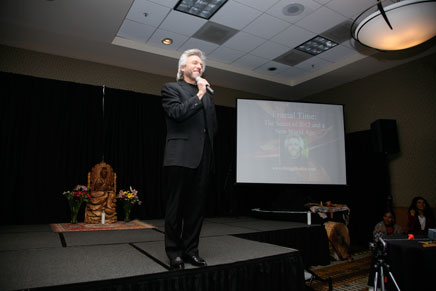 Opening Keynote Speaker, Gregg Braden.
Closing Keynote Speaker, Gary Renard

Wachan and Grandfather Martin at opening ceremony

Our Master of Ceremonies for the weekend, Dean Taraborelli

Producer Karen Koebnick

We'd like to thank our sponsors for their support in making this a life-changing conference:
_______________
Conference Review:
Meet the Living Luminaries
January 11 - 13, 2008
Change: Finding the Gift in Shift!
SOLD OUT!
The Conference of the year for 2008 was held in the mystical Red Rocks of Sedona, AZ. at the beautiful Sedona Hilton Resort and Spa. Our Opening keynote speakers included:
| | |
| --- | --- |
| Dr. David Hawkins | Rev. Michael Beckwith and Rickie Byars-Beckwith |
| | |
Co-Producer

Ralph Reutimann

www.awarenessjourneys.com

Co-Producer

Karen Koebnick

Dr. Michael Beckwith

Dr. David Hawkins

Susan Hawkins

Rickie Byars-Beckwith




© Susie Reed Photos
Our MC host for the weekend was Dean Taraborelli.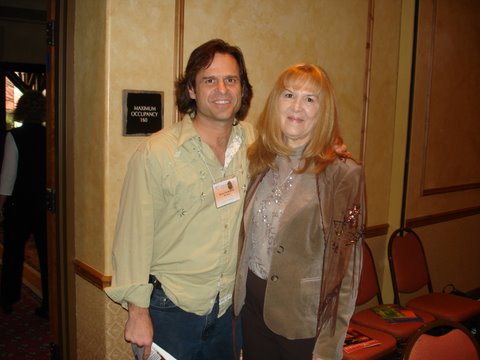 What a weekend!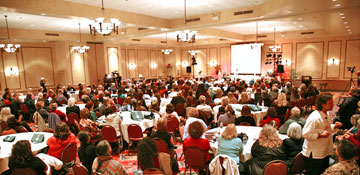 Other important information:
We'd like to thank our sponsors for their support in making this a life-changing conference:

Natural Awakenings, New Mexico Magazine
_______________________________
Conference Review:
Seeking TRUTH for Global Transformation
Creating the shift to a sustainable planet
September 13, 2008

Hopi elder,
Grandfather Martin
______________________________________
One Day seminars in Sedona

Live and Uncensored!

2000-2008

Dannion Brinkley

Paul Perry

Raymond Moody MD

Judith Orloff MD

Alberto Villoldo PhD

James Redfield

Andrew Harvey

Dr Michael Beckwith

Dr Eric Pearl









Multiple Day conferences and Retreats