The Quantum Shift; Being the Gift in Shift
January 15 -17, 2010
Sedona Creative Life Center
333 Schnebly Hill Road, Sedona, AZ



Directions to Sedona Creative Life Center
Two day tickets are $225 for general seating (until December 1)

Two day preferred seating (first 3 rows) is $295 (until December 1)

Friday only $125
Saturday only (includes film) $150

Full day intensive workshop with Dr. Joe Dispenza on Sunday, January 17th is $250. Seating is limited for Dr. Joe's Sunday intensive.

Sunday Chris Spheeris concert $15
Need a place to stay?
Call the Radisson Poco Diablo at (928) 282-7333
and ask for the Stellar rate.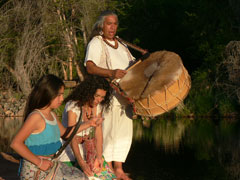 Opening Ceremony Willkasara
Opening Keynote Speaker
Gregg Braden
Check out this clip of Gregg from last year's Gift in Shift conference


Closing Keynote Speaker
Dr. Joe Dispenza
Best-selling Author
How to Lose Your Mind and Create a New One
Check out this clip of Dr. Joe from Stellar Productions April 2009 event
Dr. Rocco Erricco Saturday afternoon keynote, Dr. Steven Ross,
Dean Taraborelli, Ronna Prince, Dr. Donald Backstrom, Laura Alden Kamm, Sunny Dawn Johnston and other renowned authors and workshop leaders.
Sedona premiere of the "Infinity" film

Read the full story on ABC15.com